We welcome you to the Martial Arts Institute! Here we focus on building strong minds and bodies for all of our students. No prior experience is necessary - we teach all ability levels with karate classes for adults and for children ages 8 & up.

Everyone is invited to come watch a class or participate in a real class as a trial with no obligation or hard sell - that is not our style. The only commitment we ask our students to make is to themselves - we don't believe in contracts. We have small classes where you get personalized attention every time to help ensure you get the most out of your karate training.



Upcoming Programs:
Personal Safety
- this 3 hour course is designed for any individual who wants the tools to be confident in their everyday life. We will give you the tools to recognize possible dangerous situations and teach you how to handle them. Saturday, September 29, 2018 from 11am - 2pm at our facility.
GO HERE
for more information or to register.
​Handling Aggression
- this class will address 3 stages of conflict and conflict management. We will begin by focusing on verbal intimidation and how to properly respond. We then cover scenarios that go beyond words where "reasonable force" might be needed to regain control of a situation. Saturday, November 3, 2018 from 11am - 2:30 pm at our facility.
GO HERE
for more information or to register.
​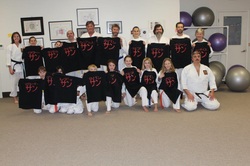 At the Martial Arts Institute, we teach authentic, Okinawan GoJu Ryu Karate. We teach the original format of this highly regarded martial art the way it has been handed down for generations by maintaining strong ties to its history and roots in Okinawa.

As the saying goes "A journey of a thousand miles begins with a single step", so please take the first step and come try us out.


---
All students at the Martial Arts Institute also have access to our karate at home ​training materials available at
www.KarateTrainingAtHome.com