Bio: Sensei Kevin Webb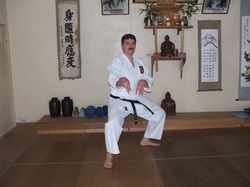 Sensei Webb is the senior student of Hiroji Kuniyoshi Sensei from Okinawa City, Okinawa.

Kuniyoshi Sensei started his martial arts training at the age of 7 in Judo. When he was 15 he was introduced to Seikichi Toguchi who was one of the senior students of Chojun Miyagi, founder of Goju Ryu. He continued to train in Goju Ryu karate throughout his entire life. In addition, he has trained in Judo, Kendo and even run several marathons. Even at his advanced age, Kuniyoshi Sensei continues to be very active, taking his dogs for a run every morning in addition to training several days a week at his dojo and teaching karate classes in the Okinawan school system as did Chojun Miyagi and Seikichi Toguchi before him.

Kuniyoshi Sensei is currently the President of the Okinawa Karate-Do Goju Ryu Kuniyoshi-Kan Dojo in addition to being the Vice Chairman for the Okinawan Karate-do Goju Ryu Federation which is an organization made up of over 40 dojos on Okinawa.

Kuniyoshi Sensei appointed Kevin Webb as his official representative in the USA and the Martial Arts Institute is an official Shibu (branch) dojo of the Honbu (headquarters) dojo in Okinawa. Sensei Webb has traveled to Okinawa to train with Kuniyoshi Sensei many times and was honored recently when Kuniyoshi Sensei came to the US along with one of his students. He has stated many times how important it is for the ways and traditions of true martial arts to get passed down to the next generation so they are not lost or watered down.

Sensei Webb is the senior deshi (student) of Kuniyoshi Sensei and has the responsibility to continue the teachings of Goju Ryu in their original form. Kuniyoshi Sensei has specifically asked that Sensei Webb take responsibility to ensure that what he has been taught is not lost to future generations of karate-ka. During his many visits to Okinawa, this continues to be at the core of the lessons that Sensei Webb is taught. In addition to the physical training, he has spent countless hours reading and studying the history of Okinawa to better understand the context in which Karate and Kobudo developed.

Sensei Kevin Webb has been training in the martial arts since the early 80's. He started his training with Tsutomo Oshima in Shotokan Karate where he earned his first black belt ranking. He has continued his training in Goju Ryu (hard soft style) Karate where he has earned the rank of 7th degree black belt (Nanadan) and the teaching grade of Kyoshi from Okinawa. In addition, he has earned the rank of 5th degree black belt (Godan) in Okinawan Kobudo. Over his many years of training, Sensei Webb has studied a variety of styles including Aiki Jujitsu and Tai Chi Chuan as a means of improving his understanding of Goju Ryu Karate and Okinawan Kobudo. In this way, he continues to follow the path that his teacher and his teacher's teacher set out before him.

Sensei Webb has taught classes and seminars to thousands of people. He has trained and taught traditional martial arts throughout the U.S. and in a variety of countries. He continues to teach classes at his home dojo in Maine as well as works with students from his original dojo location in Syracuse, NY. He is also available for seminars upon request.